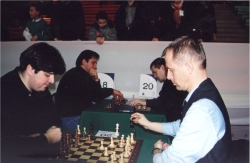 Oleg Krivonosov
Operator of Gandalf on Board 3:
Kim Burcham (USA)

Personal information:
Trade: Industrial maintenance
Married, three children and three stepchildren.
Almost 50, but no grey hair yet.

Lifetime chess fan.
PC's used for this match: 2 separate 1500 Mhz, 512 Mb RAM, 200 Mb Hash, 2.6 Gig Nalimov endgame tablebases.
Has a computer account at chess.net, ICC and playchess.com as xracer.